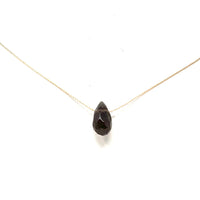 Smoky Quartz Teardrop Necklace (I AM SUPPORTED)
Handmade crystal necklaces to support your intentions where ever you go.
The Necklace has a 17'' durable nylon string with a sterling silver clasp.
Abundance is all around you and within you, for you are supported by the Universe. Smoky Quartz is the ultimate centering and deep grounding stone for your Root Chakra, transmuting negative energy while clearing path and blockages. Bask in the light, safe and protected. Divine energy surrounds you wherever you go.
Chakras associated with: Root
Complement the energy of this crystal with:
● Bless Me With New Opportunities Affirmation Soy Candle, Strength Arcana Mystics, Sword Shield Anointing Oil
Share Your Light With The Community
Upload your photo here or mention @houseofintuition on Instagram to be featured.
Explore what your fellow manifestors are saying!