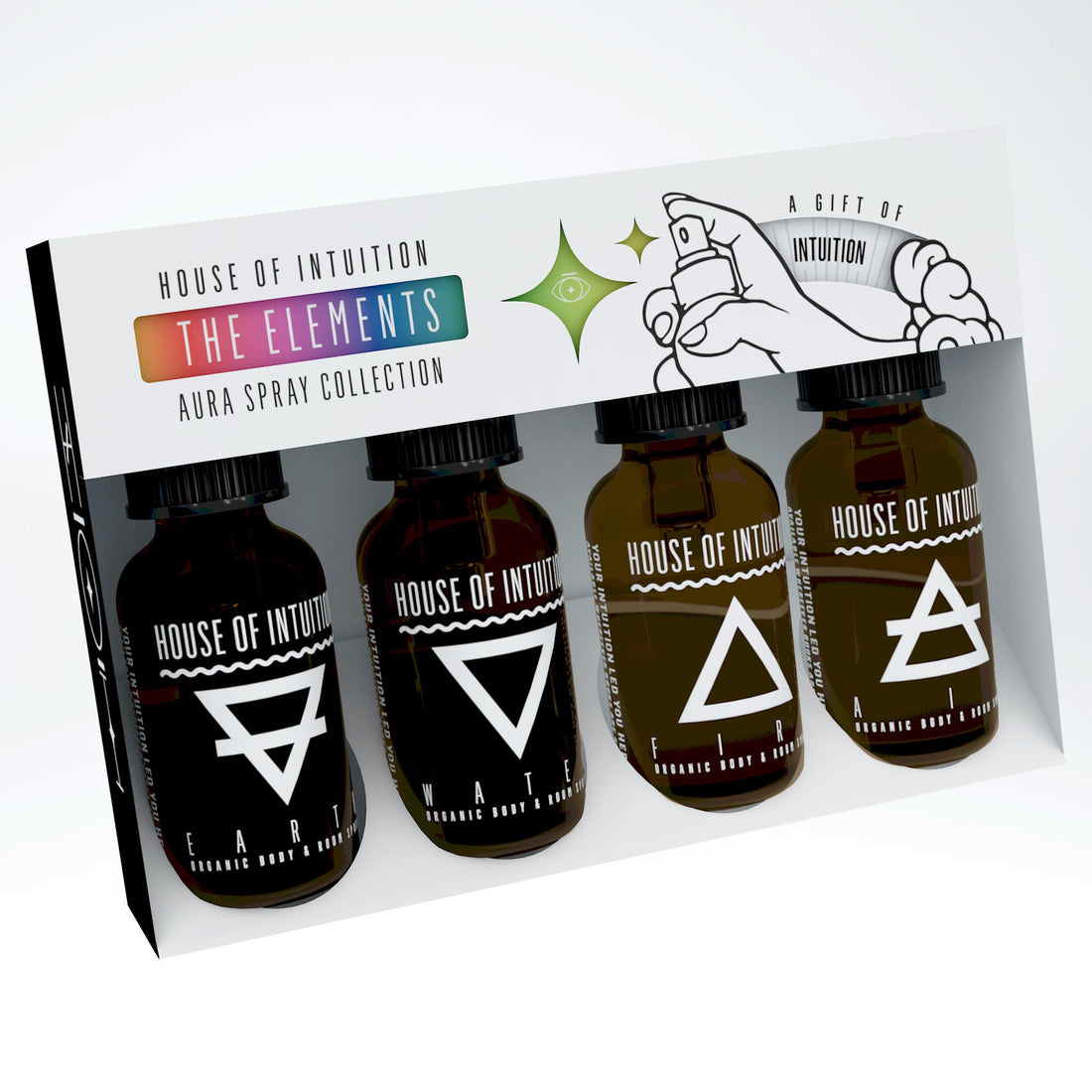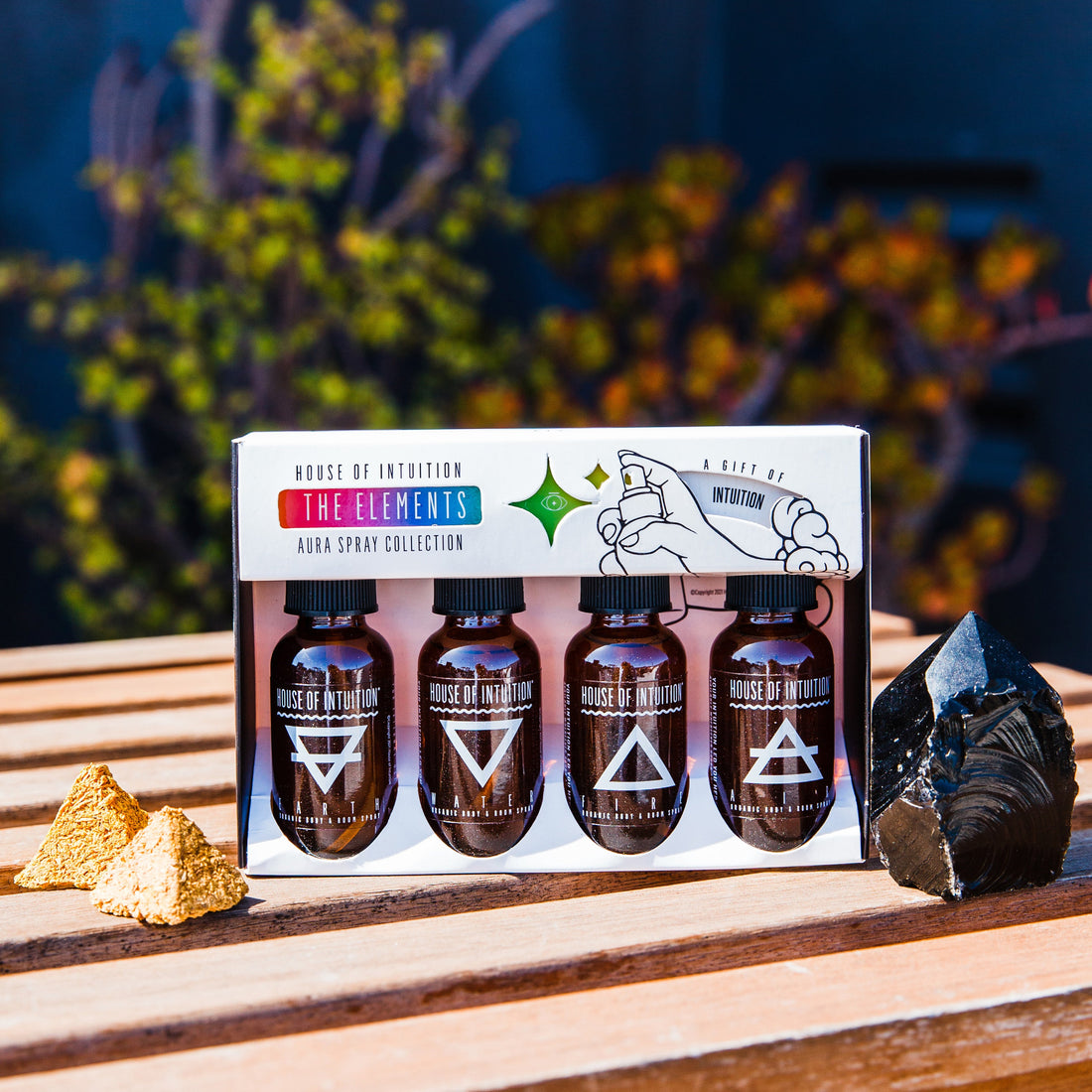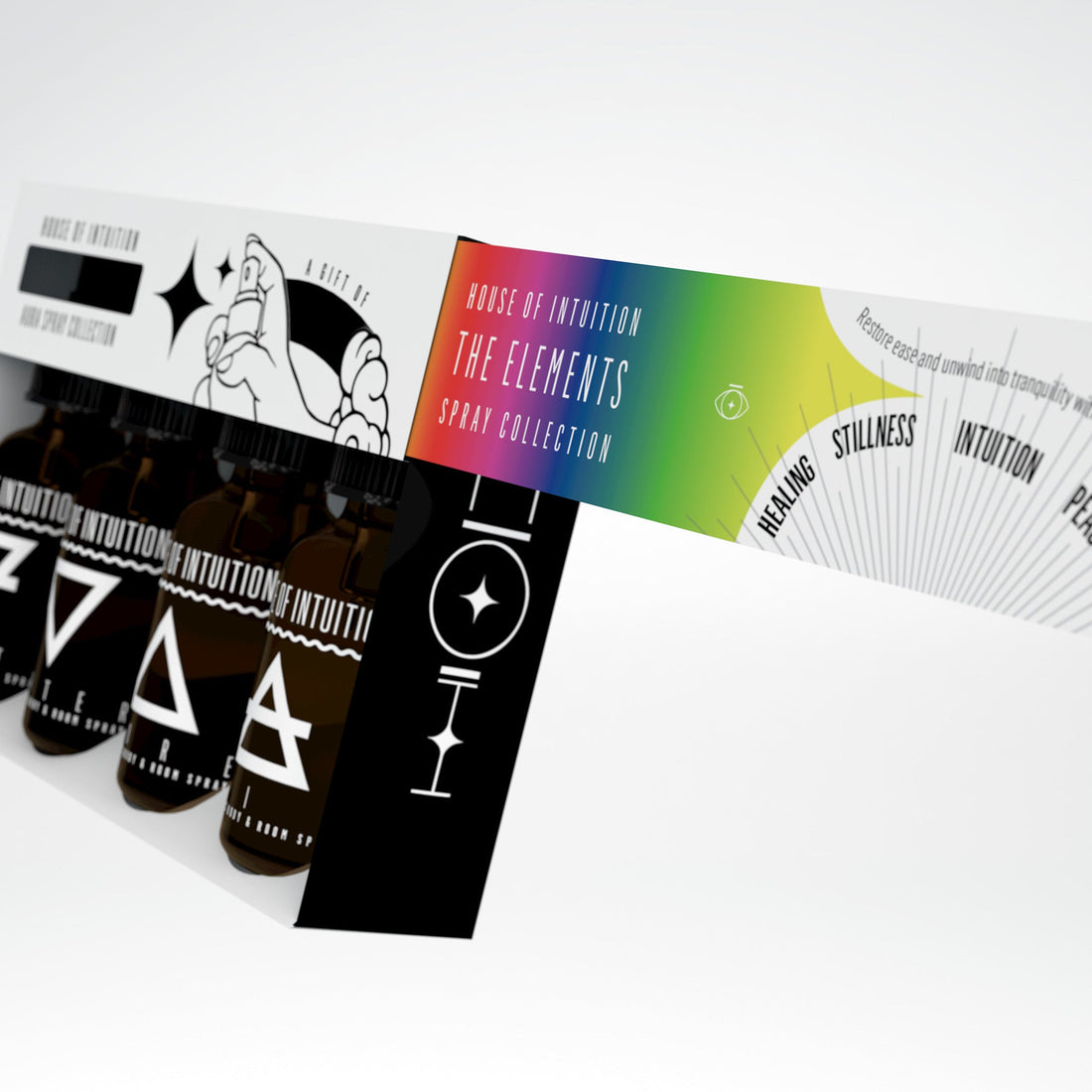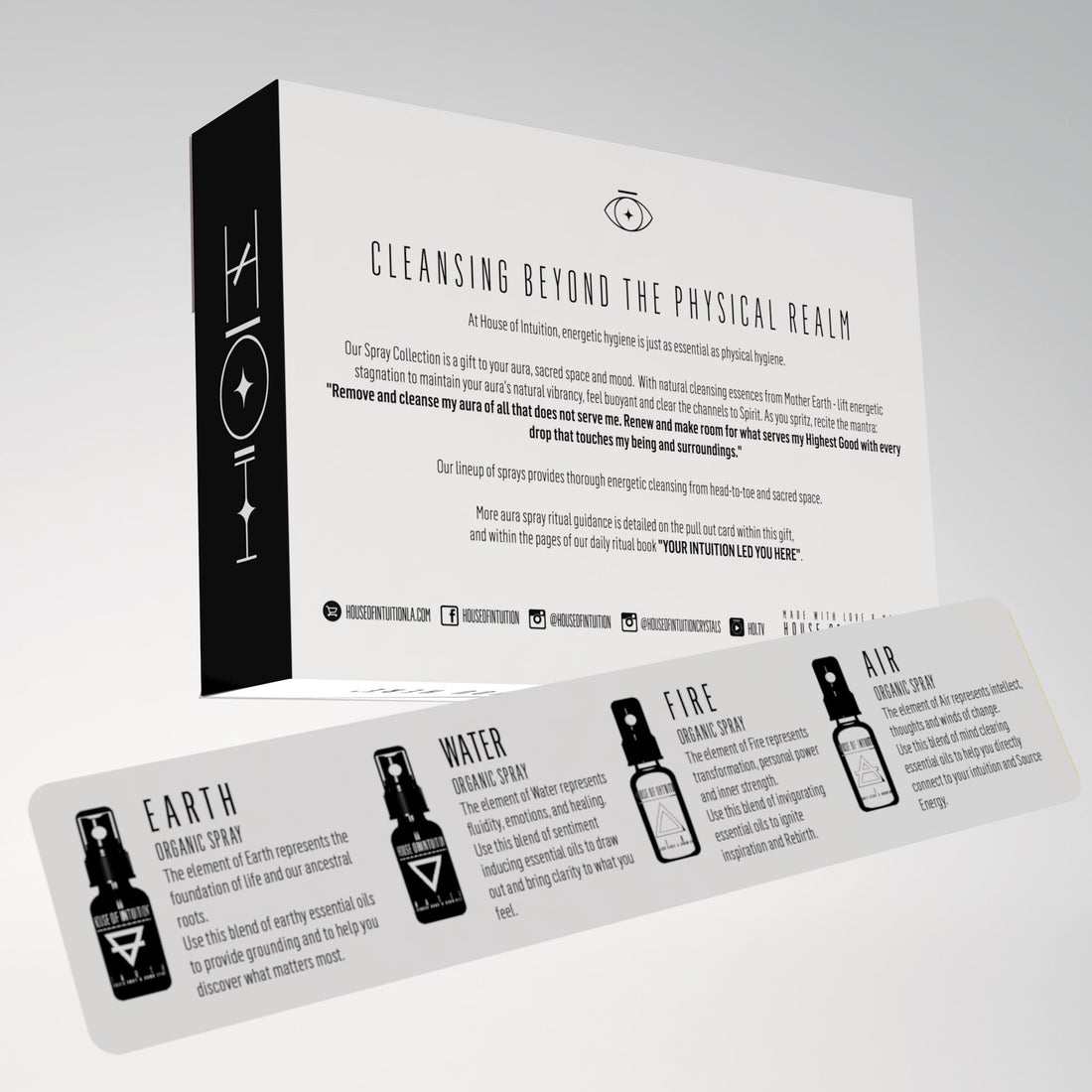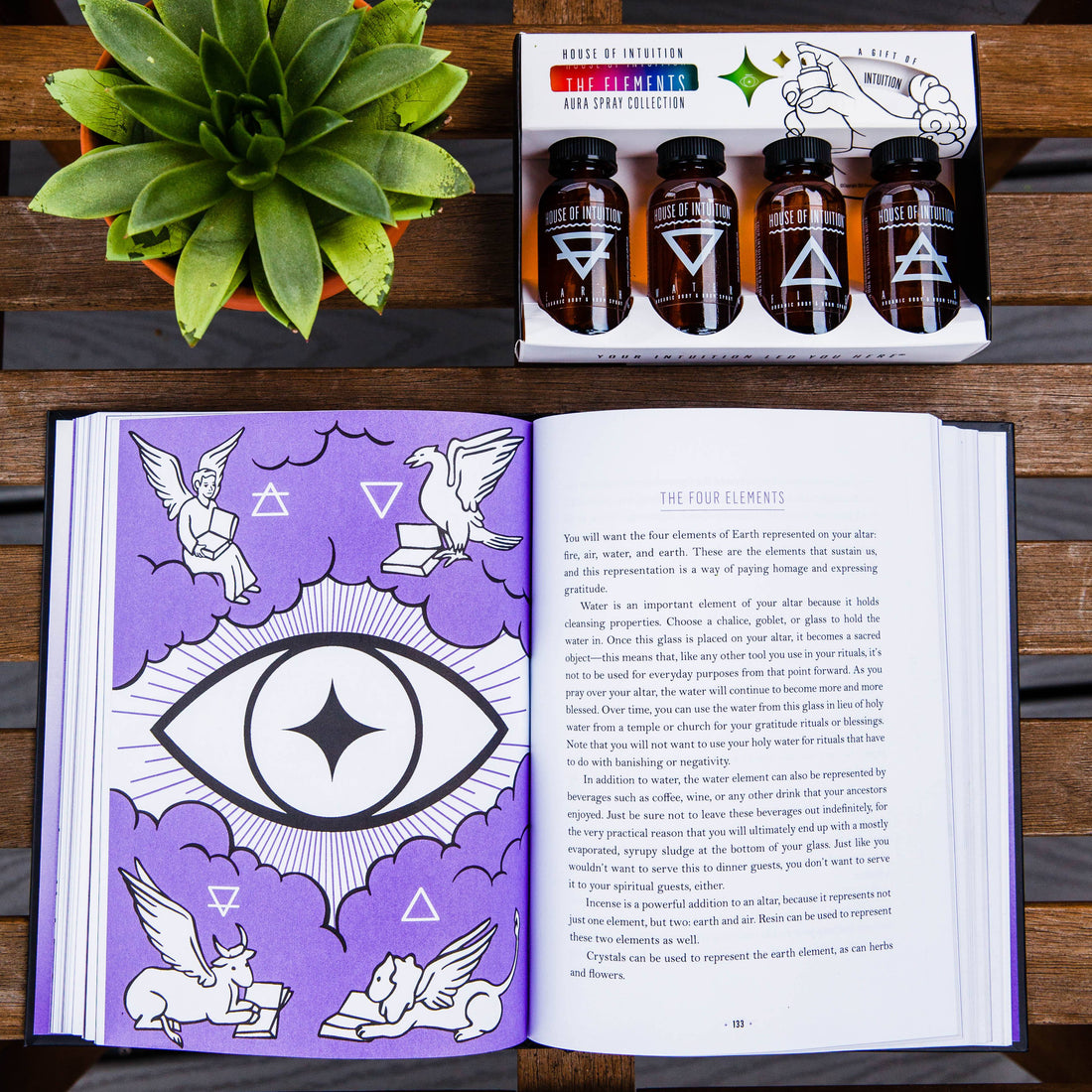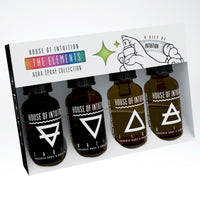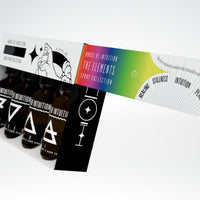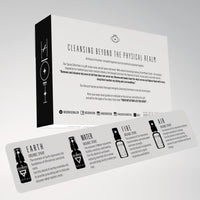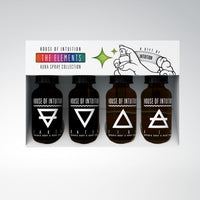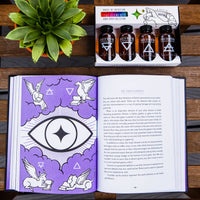 Aura Cleansing Spray Gift Set - The Elements
Enjoy this Gift of Intuition
+ Power / Balance / Spirit
"Call upon The Elements to balance body, mind, emotion & inspiration to connect with Spirit" 
CLEANSING BEYOND THE PHYSICAL REALM
At House of Intuition, energetic hygiene is just as essential as physical hygiene.
Our Spray Collection is a gift to your aura, sacred space and mood. With natural cleansing essences from Mother Earth - lift energetic stagnation to maintain your aura's natural vibrancy, feel buoyant and clear the channels to Spirit. As you spritz, recite the mantra: "Remove and cleanse my aura of all that does not serve me. Renew and make room for what serves my Highest Good with every drop that touches my being and surroundings."

Our lineup of sprays provides thorough energetic cleansing from head-to-toe and sacred space. In addition to our Healer's Hand Cleansing Spray, which acts both as an energetic disinfectant and hand sanitizer, use the Organic Spray to reset the aura of your space or body, the Arcana Skin Mystics Spray as skin toner, and the Hair Mystics Spray directly on your hair or Crown Chakra.

More aura spray ritual guidance is detailed on the pull out card within this gift, and within the pages of our daily ritual book "Your Intuition Led You Here."

1. EARTH
ORGANIC SPRAY
The element of Earth represents the foundation of life and our ancestral roots.
Use: Spray this blend of earthy essential oils to provide grounding and to help you discover what matters most.

Ingredients: Distilled Water, Absolutes of Tobacco, Cedarwood, Tonka Bean and Haitian Vetiver, Blue Chamomile, Yarrow Flower, Patchouli Organic Essential Oils

2. WATER
ORGANIC SPRAY
The element of Water represents fluidity, emotions, and healing.
Use: Spray this blend of sentiment inducing essential oils to draw out and bring clarity to what you feel.

Ingredients: Distilled Water, Absolutes of White Lotus, Pink Lotus, Violet Leaf, Osmanthus Flower, and Rhododendron, Pink Grapefruit, Jasmine Gradafloria Organic Essential Oils

3. FIRE
ORGANIC SPRAY
The element of Fire represents transformation, personal power and inner strength.
Use: Spray this blend of invigorating essential oils to ignite inspiration and Rebirth.

Ingredients: Distilled Water, Absolutes of Cedarwood, Tobacco, Coffee Bean, Ambrette Seed, and Black Pepper, Galangal, Haitian Vetiver, Spruce, Cinnamon Leaf Organic Essential Oils

4. AIR
ORGANIC SPRAY
The element of Air represents intellect, thoughts and winds of change.
Use: Spray this blend of mind clearing essential oils to help you directly connect to your intuition and Source Energy.

Ingredients: Distilled Water, Absolutes of Fir Balsam, Violet Leaf, Hay, Cedarwood and Amyris, Sweet Marjoram, Fir Balsam, Khella and Melissa Organic Essential Oils.
Share Your Light With The Community
Upload your photo here or mention @houseofintuition on Instagram to be featured.
Explore what your fellow manifestors are saying!