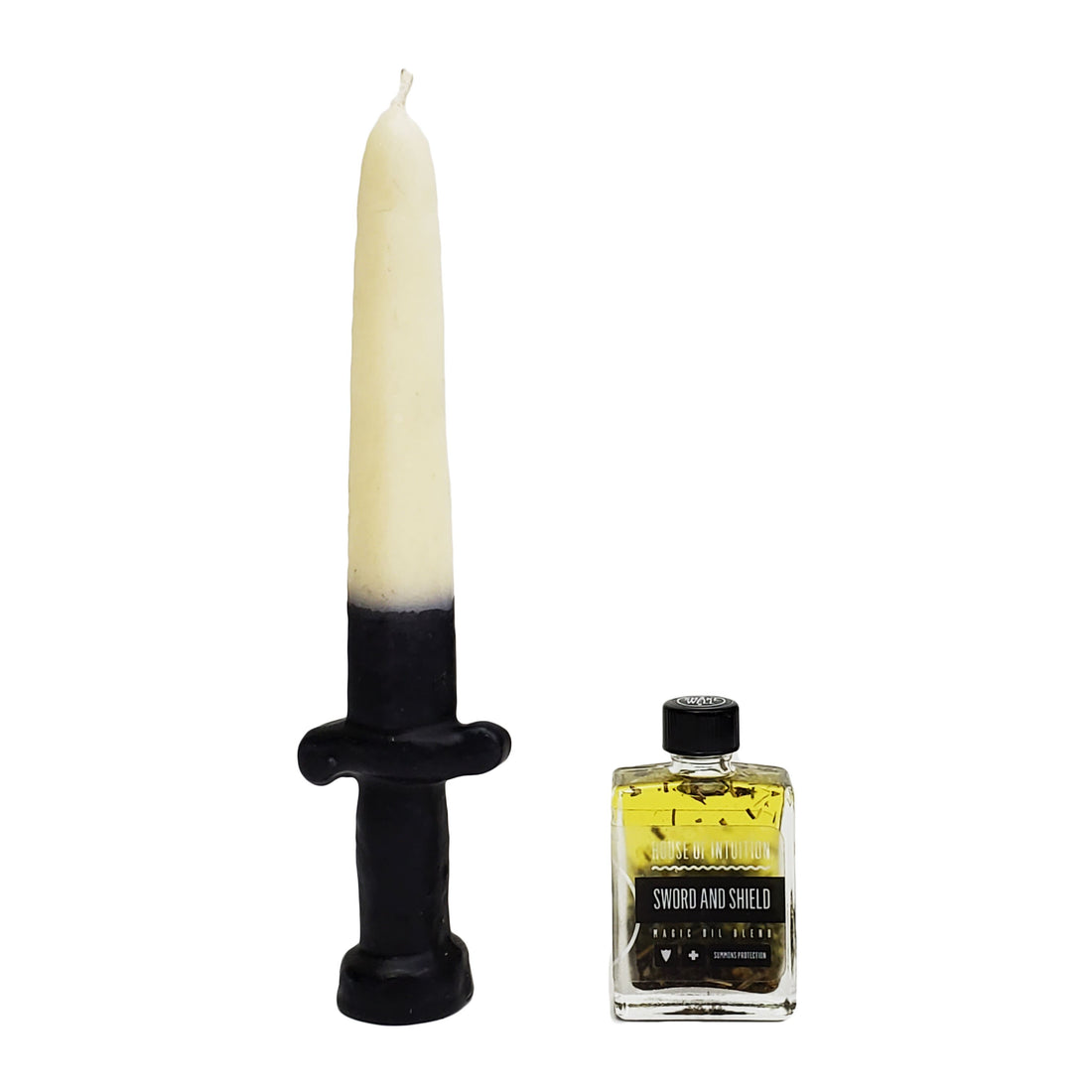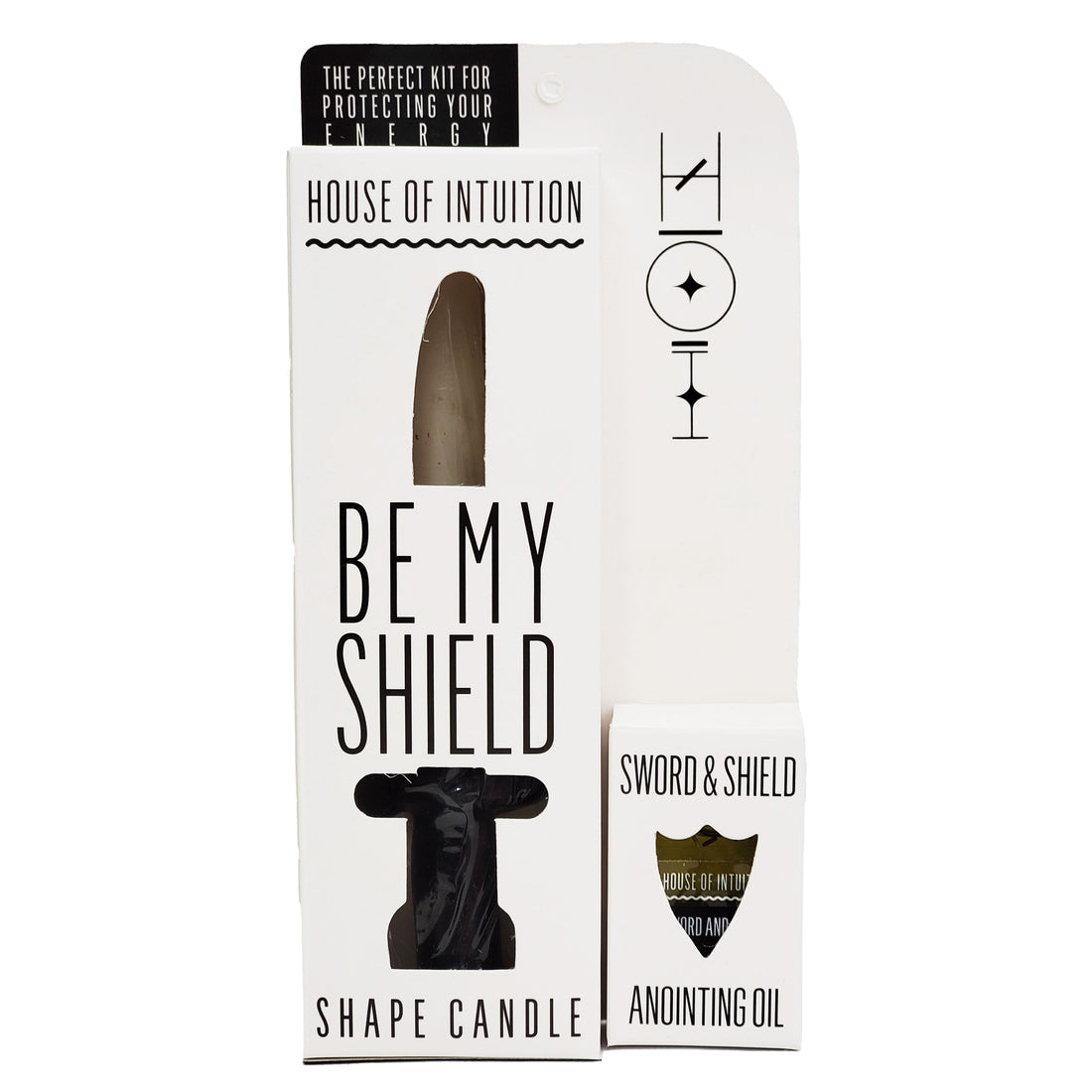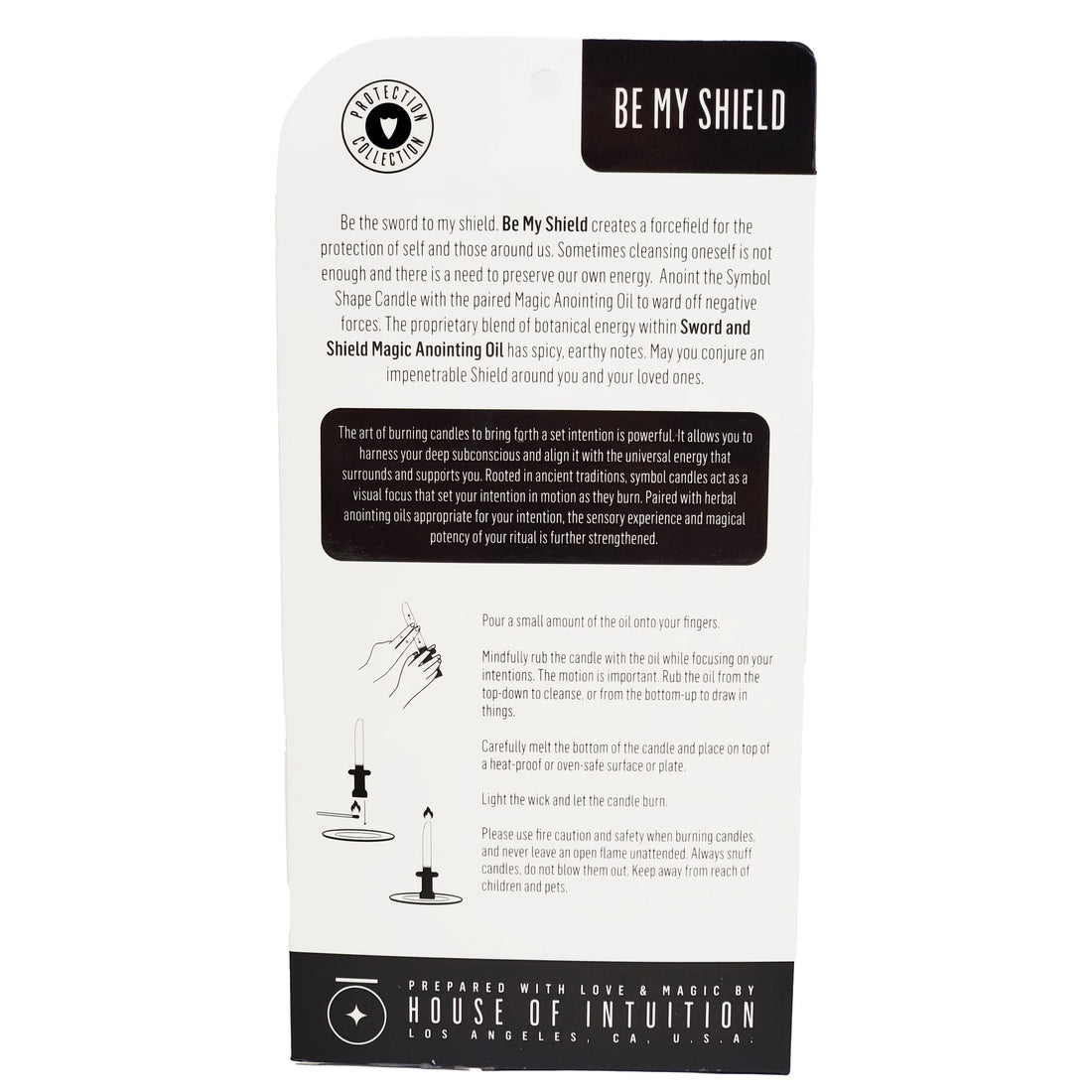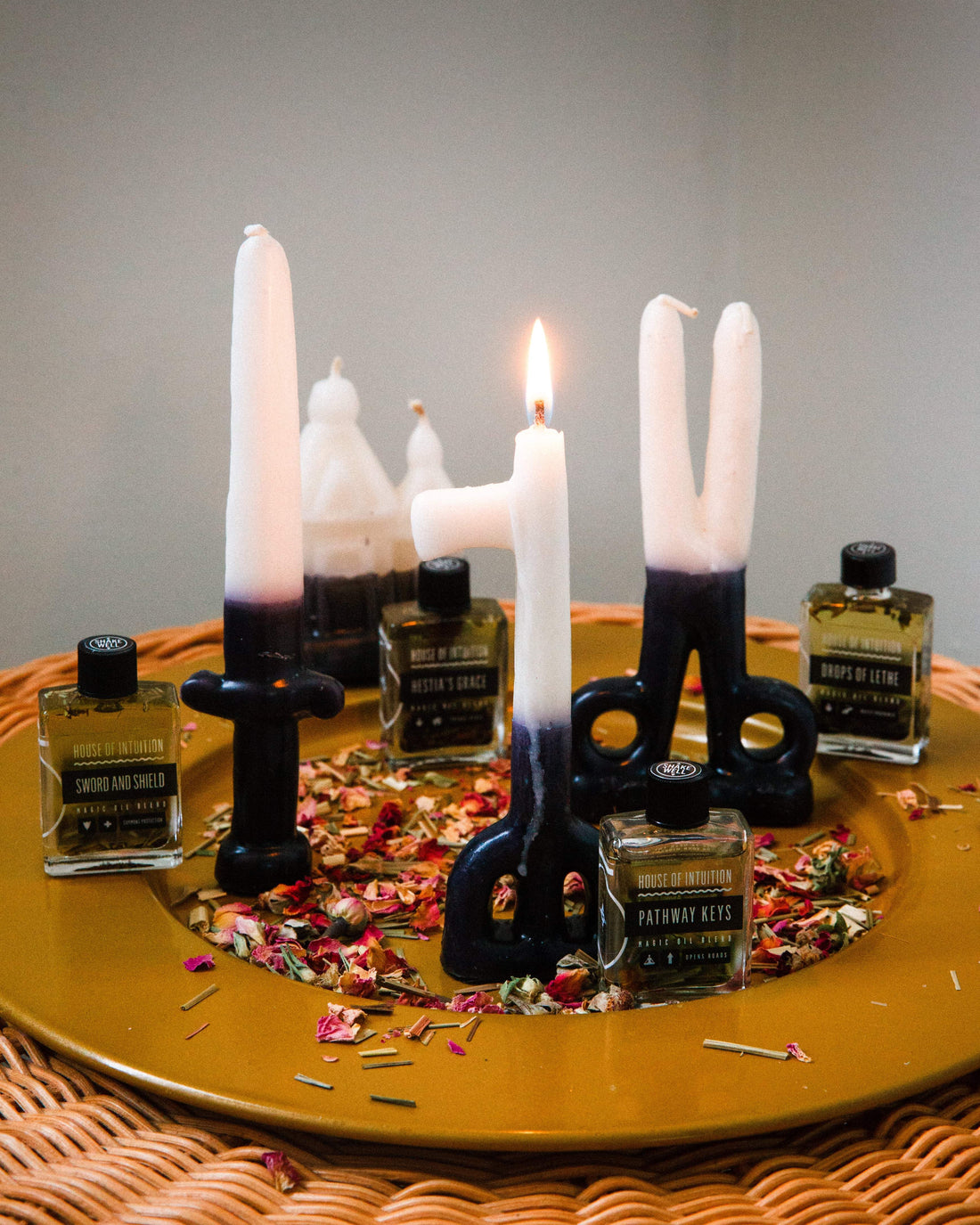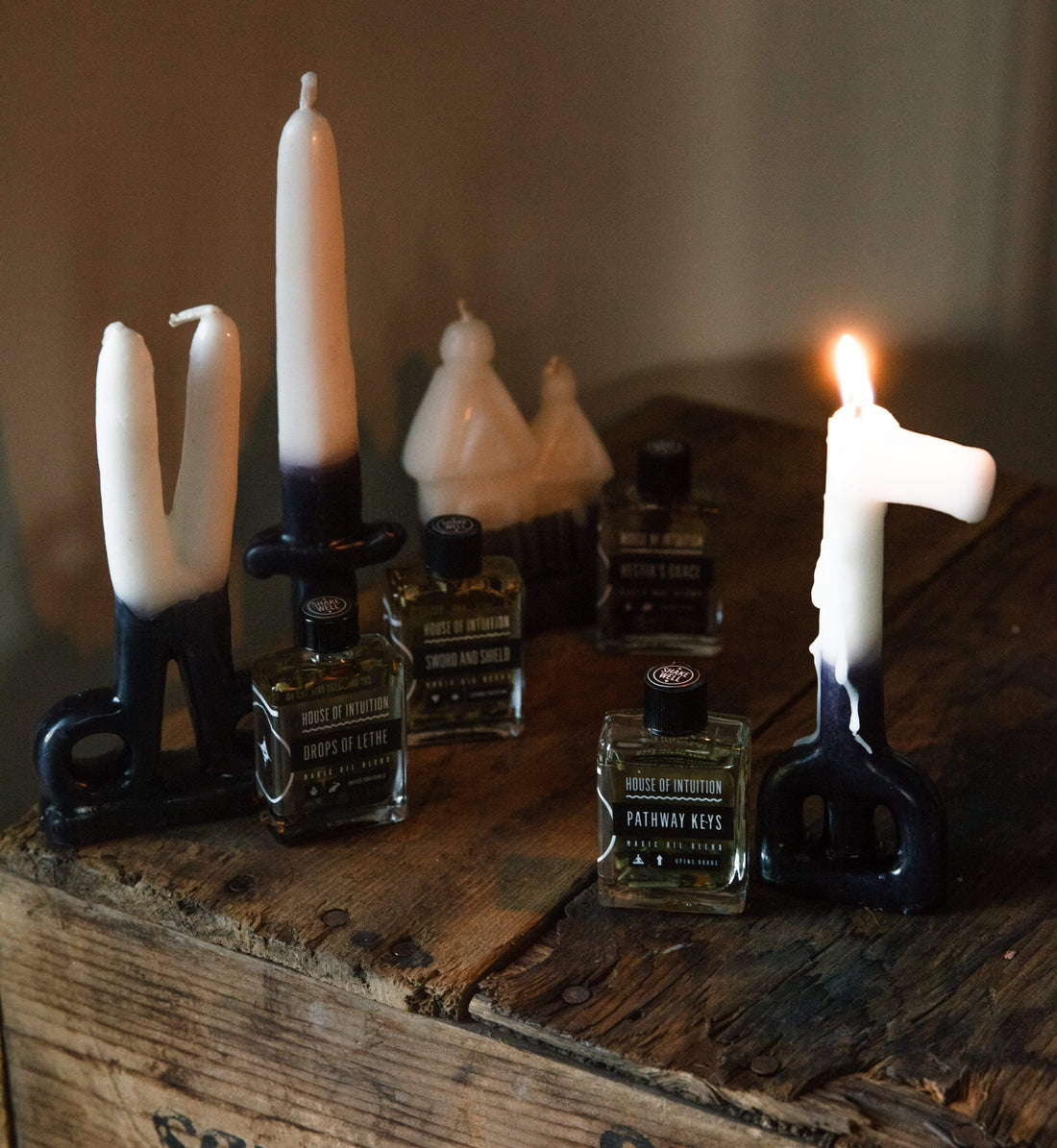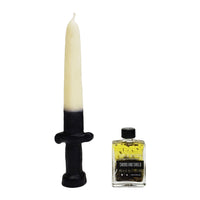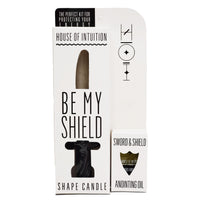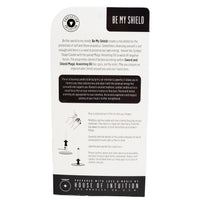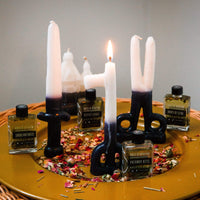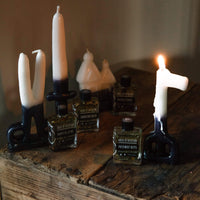 "Be My Shield" Symbol Shape Candle Kit (with Sword & Shield Anointing Oil)
THE PERFECT SYMBOL FOR PROTECTING YOUR ENERGY
Be the sword to my shield. "Be My Shield" is the kit for the protection of self and those around us. Sometimes cleansing oneself is not enough and there is a need to preserve our own energy. With Sword & Shield Anointing Oil's spicy and earthy aroma, this oil and candle will conjure a protective Shield around you. Anoint the candle with the Sword & Shield Anointing Oil to shield your energy.
SYMBOL SHAPE CANDLE KIT
The art of burning candles to bring forth a set intention is powerful. It allows you to harness your deep subconscious and align it with the universal energy that surrounds and supports you. Rooted in ancient traditions, symbol candles act as a visual focus that set your intention in motion as they burn. Paired with herbal anointing oils appropriate for your intention, the sensory experience and magical potency of your ritual is further strengthened. Whether you're a beginner or a pro at working with Shape Candles, each offering in our new Shape Candle line comes with a how-to and specific intention-work for you to create with so you'll never feel confused or intimidated by the process of using the candles.
Shape Candles Kits come as a Symbol Candle with a corresponding anointing oil to manifest whatever intention is set for them. The anointing oil can be used to "dress" the candle by rubbing the oil directly onto the candle wax before burning. As an optional step, you may also carve the candle or dress it with additional herbs or crystals as well.
This magical tool represents all of the sacred elements: Earth is the wax, Water is the melted wax, Fire is the flame, Air is the smoke, and Spirit is the intention.
HOW TO DRESS A CANDLE:
You can amplify the magic of your Symbol Shape Candle by pairing it with an anointing or essential oil and dabbing directly onto the candle and rub the oil along the candle working from the bottom to the top. The motion of dressing the anointing oil upwards will activate your intention and charge the candle to draw in what you seek. As an additional step, you may also carve, engrave, or dress the candle with herbs. When the candle is ready, carefully melt the bottom of the candle and place it into a candlestick, candelabra, or on any heat and fire safe candle holder. Take a moment to set your intention, and then ignite the flame. Never leave candles burning unattended.
Share Your Light With The Community
Upload your photo here or mention @houseofintuition on Instagram to be featured.
Explore what your fellow manifestors are saying!